On November 8, voters across the country will cast their ballots in the 2022 midterm election. At stake: all 435 House of Representatives seats, 35 Senate seats, and control of the House and Senate. The outcome of this election will greatly impact the next two years of President Biden's term, as right now—albeit with slim majorities—Democrats have control of the White House, House, and Senate. This has allowed them to pass signature pieces of legislation, most recently the Inflation Reduction Act and the 2021 Infrastructure Investment and Jobs Act.
However, Democrats continue to face an uphill battle. While the U.S. Supreme Court's invalidation of Roe animated a previously sleepy Democratic base, a historic number of Democratic retirements in competitive districts has put the party on defense across the country. Also, of course, there's the specter of elections past. In the last four midterm cycles, the president's party has lost on average 37 seats in the House and five seats in the Senate (Republicans did pick up two Senate seats in the 2018 midterms). Since 1900, only four presidents have gained seats in the House during the midterm elections. This election is likely no different. Polling suggests that Democrats will lose the House, with control of the Senate still up in the air.
If Republicans take the House, as many pundits have predicted, we can expect to see increased legislative action on China. In September 2020, the Republican-only China Task Force released a 141-page report that includes over 400 recommendations, which likely will serve as a blueprint for House Republicans' approach to China. We can also expect to see increased scrutiny of Big Tech companies. Rep. Cathy McMorris Rodgers (R-WA), who is the current Ranking Member of the committee with jurisdiction over these issues and is expected to take the gavel should Republicans win the House, has released statements and discussion drafts related to Section 230 liability reform that will "hold Big Tech accountable." In keeping with the tradition set by Newt Gingrich's 1994 "Contract with America," House Minority Leader Kevin McCarthy (R-CA), who is poised to become Speaker, unveiled this week his conference's "Commitment to America." The legislative roadmap centers on four broad tenets: the economy, safety, individual freedom, and government accountability.
Currently, the Senate is split 50-50, with Vice President Kamala Harris casting any tie-breaking votes as President of the Senate. Republicans hold a commanding lead in the generic ballot on the economy, crime, and inflation, but Democrats have the distinct advantage on abortion and climate. How these issues wrestle for primacy in a select handful of battleground states will determine control of the Senate. Early predictions of GOP gains have been clouded by the US Supreme Court's invalidation of Roe, leaving the race for control of the Senate too close to call.
Senate Minority Leader Mitch McConnell (R-KY) made headlines in August with his predictions for the midterms: "I think there's probably a greater likelihood the House flips than the Senate. Senate races are just different — they're statewide, candidate quality has a lot to do with the outcome."
Historically, voter turnout in midterm elections is significantly lower than years with a presidential race, with turnout rates dropping 10-20% among the voting-eligible population between general elections and midterms. The 2018 midterms saw the highest turnout in decades, which is largely attributed to reactions to President Trump's victory in 2016.
Notable Developments this Week
On September 13, the final three states held their primaries (Delaware, New Hampshire, and Rhode Island).

Retired Army Brigadier General Don Bolduc won the Republican U.S. Senate primary in New Hampshire. He will face off against incumbent Democratic Senator Maggie Hassan. Bolduc supported former President Trump's claim that he won the 2020 election but has altered his position as he heads into the general election.
Neither candidate in the Delaware congressional race faced a challenger in the primary. Democrat incumbent Rep. Lisa Blunt Rochester (D-DE) will face Republican challenger Lee Murphy in November.
State Treasurer Seth Magazine won the Democratic primary for Rhode Island District 2, currently held by retiring Democrat Jim Langevin. He will face Allan Fung, former Mayor of Cranston, who ran unopposed for the Republican nomination. The race is viewed as competitive.

Last week, Senator Lindsey Graham (R-SC) proposed a nationwide ban on abortions after 15 weeks (with limited exceptions). While the bill is not expected to move in the Democrat-controlled House and Senate, Democrats are already using the proposed ban as a talking point of what a potential Republican-controlled Congress could do.
The cold war between Senator Joe Manchin (D-WV) and progressives shows no signs of ending. The White House and congressional leadership agreed to pass "comprehensive permitting reform" as part of a continuing resolution to secure Manchin's support for the Inflation Reduction Act. However, vocal opposition from House progressives over the measure's inclusion in the must-pass legislation raises the chances of spurning Manchin or a government shutdown.
2022 Midterms: By the Numbers
The Cook Political Report – a nonpartisan organization that analyzes elections and campaigns – scores races on a variety of factors as Solid Republican, Likely Republican, Lean Republican, Toss-Up, Lean Democrat, Likely Democrat, and Solid Democrat. "Likely" races are those where "seats are not considered competitive at this point, but have the potential to become engaged," while "Lean" races are "considered competitive races, but one party has an advantage."
In the Senate
Democrats are favored in 12 of the races, Republicans are favored in 19, and four races are considered toss-ups. However, only 14 Democrat-controlled seats are up for election, compared to Republicans' 21 seats (this is due to the six year terms of Senators; in 2020, Democrats had to defend more seats than Republicans). Republicans will need to flip a Democrat-held seat and maintain all of their current seats in order to gain the majority.
Of the 35 races:
9 are classified as "Solid Democrat"
3 are "Lean Democrat"
4 are "Toss-Up"
3 are "Lean Republican"
1 is "Likely Republican"
15 are "Solid Republican"
The three toss up races are in Georgia, Nevada, and Wisconsin. The Democratic nominee in Pennsylvania is currently ahead in the polls in the open seat vacated by Sen. Pat Toomey (R-PA), while Republicans are expected to retain the open seats in North Carolina and Ohio vacated by the retirement of Sens. Richard Burr (R-NC) and Rob Portman (R-OH).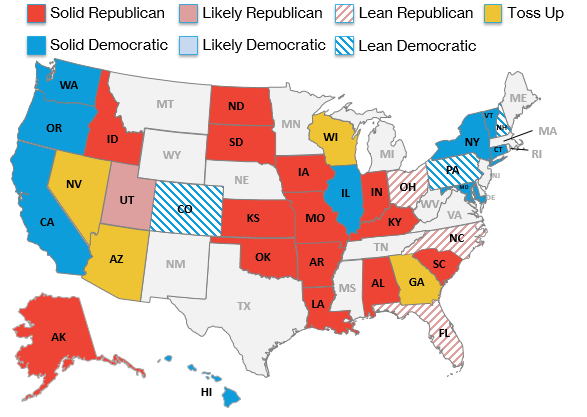 In the House
Democrats are favored in 192 of the races, Republicans are favored in 212, and31 races are considered toss-ups. This means Democrats will have to win the majority of the toss-up races to secure the 218 seats needed to hold the majority.
Of the 435 races:
162 are classified as "Solid Democrat"
13 are "Likely Democrat"
17 are "Lean Democrat"
31 are "Toss-Up"
11 are "Lean Republican"
13 are "Likely Republican"
188 are "Solid Republican"
Subscribe and stay updated
Receive our latest blog posts by email.